Lake Fork is the Big Bass lake of Texas! It is the home of the state record 18.18# largemouth bass and 35 of the top 50 biggest bass caught in Texas.

Lake Fork was identified as the number one public lake for catching a lunker bass over 10# in the March 2010 edition of the Bassmaster magazine!!!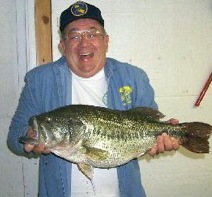 Here you will have a real opportunity to set a new record for largemouth bass caught with a fly rod.
STATE RECORD- BASS ON A FLY ROD.
Caught by John H. Lindsey, Jr. of Fremont, CA
October 20, 2000 in Meredith Stilling Basin
14.14 pounds, length 26.13 inches, girth 21 inches
Bait/Lure: bass bug

This 27,000 acre impoundment is located approximately 90 miles east of Dallas, 50 miles north of Tyler(I-20), and 20 miles south of Sulphur Springs (I-30). It consists of two main arms and numerous branches and creeks all of which have produced bass over 10#. It is primarily a shallow water reservoir with plentiful grass beds ideally suited for the fly fisherman.

Lake Fork has been carefully managed by TPWD to produce and sustain a large bass population. Part of this is a slot of 16"-24" within which a fish must be immediately returned to the water. All fish weighed-in must be less than 16" or greater than 24". But, catching "slot fish" that may weigh 3-8# is part of the excitement of fishing The Fork. Thousands of dollars are won each year in tournaments by catching fish below the slot, although the big fish are over 24" and truly trophies.

For non-boaters using the Catch-Photo-Release rules, you'll be able to record all those great slot fish for inclusion in your five fish tally.

This is not the place for your 5X or 6X tippet! Most fly fishermen use 10-15# leader and tippet for the great top water bite this time of the year. As the sun rises, most fishermen then go to large subsurface bass flies fished around the grass beds. Bass tapers or weight forward floating fly lines are used most often. However, a sinking tip line is a good choice as the bass move deeper through the day.

By May, the spawn is over and the females have recovered and are agressively feeding once again. Early shallow water fishig with poppers, frogs, and divers can be very exciting as even the big fish are aggresively feeding every morning. Be sure and practice your straight line hookset to make sure your hook penetrates well, then hang on and keep your fish out of the trees.

There are plenty of excellent guides on Lake Fork who can show you around prior to the tournament. There is no restriction on going with a guide anytime prior to the tournament.

The following links will provide you plenty of information about the lake.

www.ets-systems.com

www.lakeforktx@aol.com

www.lakeforkmarina.com

www.jason@lakefork.us

www.tom@lakeforkguidetrips.com

www.fghp.com


Non-Boaters: There are many access points for non-boaters around Lake Fork. Most of these have great areas to fish adjacent to them and it will not be necessary for you to cross the main lake. We will be glad to point these out to you at registration. CAUTION: Alligators, although not usually aggressive, have been seen on Lake Fork.